Hi all,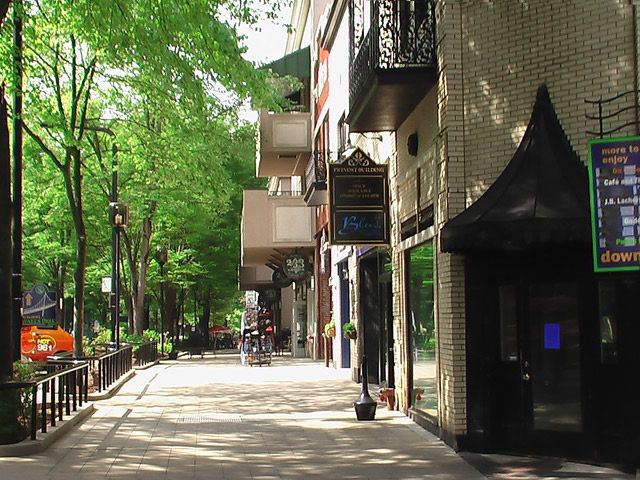 This past weekend we had a
beautiful
day on Sunday so my friend Robbie and I headed downtown to the park to hike.
It was gorgeous. The weather was sunny and warm - so unlike the day before when it was windy, rainy and rather COLD. Here are a few shots from 'my' town.
After we hiked, we ate at little Italian restaurant where we both had scrumptious salads with all kinds of greens, walnuts, strawberries, grilled chicken and feta cheese. YUM-OH! Well, that's not exactly accurate -- I had feta -- Rob doesn't like feta so she had shredded mozzarella. I still can't believe she doesn't like feta. I could put feta cheese on everything. :)
So, let's see. What else?? Ummm..... I've been reading. I'm almost finished with Sophie Kinsella's, "
Shopaholic Takes Manhattan"
. I absolutely love this series. It is just so light and fun. At the same time, I'm also reading Kim Edwards',
"The Memory Keepers Daughter"
. Boy this is one book that is hard to put down. I cannot
wait
to see what happens to each of the characters because Kim has really drawn me deep into their lives. I am sooo waiting to find out what becomes of Phoebee! I'm only on page 147 (out of 401 pages) but I highly recommend this book! If you have read it or want to read it AND discuss it, leave me a comment on my blog and I'll email you the info on joining the fun book club I'm in. We are going to begin our discussion of the book on March 1st.
Oh, one last thing.... I'm going to an Advanced Precept Leader Training class in March and got my pre-workshop homework yesterday. Wowzers. I think I will be busy with this (and lovin' it!). As a matter of fact, you should see my kitchen table right now. I've got all my study materials strewn out on it.
Anyhooo, I will be doing homework in 1 Samuel Chapters 21-23, Daniel Chapters 1-7 and Matthew Chapter 5 verses 1-4. If any of you have ever done any Precept Bible classes you KNOW that I am going to be really, REALLY busy with this probably right up until the day of the class.
Say a prayer for me. :)
xoxoxo
PattyAnne